We are very excited to introduce Bitty Big Q™, the ultimate camping grill. It is easy to carry, reliable, and ideal for outdoor lovers.  Bitty Big Q™ is a lightweight (less than 2 lbs), compact, foldable and retractable, expendable grilling rack that you can bring anywhere!
It comes with three different levels of height adjustment ranging from 3.25 to 8 inches. A true one-piece design - No assembly required. Bitty Big Q™ offers 160 squares inches of grilling surface. It provides plenty of grilling space for your food!
Bitty Big Q™ is made from 316 medical/marine grade stainless steel. It is durable and corrosion-resistant. 
You can also use it as a roasting rack in the oven or a cooling rack while baking! Bitty Big Q™ is dishwasher safe, so you can simply put it in the dishwasher after use. A carrying pouch is included with purchase.
FEATURES:
Compact, foldable and retractable
Lightweight 1.77 lbs
Easy setup - True one-piece design, setup/fold within a minute
3 adjustable levels
Grilling surface: 160 square inches
Dimensions folded: 6.70" x 3.46" x 3.43"
Use as a camping grill, cooling rack or roasting rack
Made by 316 Stainless steel
Dishwasher safe
Designed by Yehs Innovations Inc. Ontario, Canada
Made in China
*Patent Pending*
Customer Reviews
08/22/2019
Joseph P.
United States
I recommend this product
Excellent tool for camping!
I was first drawn to this product by the ingenious concept of it: A portable, light, and versatile grill. The build quality is excellent, and it exceeded our expectations on our first camping trip with it. Looking forward to putting it to work many times in the future!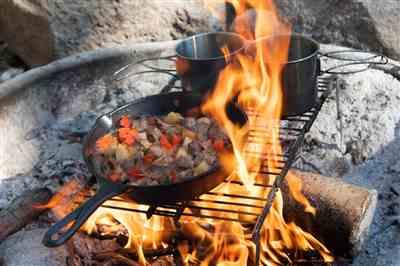 Thank you Joseph for your review and beautiful photos. Bitty Big Q Team
02/08/2020
mike s.
United Kingdom
I recommend this product
compact retactable grill
Having used it 3 times now, have found the design,strong compact and durable, pop into dishwasher on return. height adjustment a little tricky if cooling meat etc directly on grill as fuel/heat lessens with embers,
Thank you for your review Mike.
02/06/2020
Alex G.
Ireland
I recommend this product
Super Handy
Love this item. It's so handy to have on a trip, very compact and light. The adjustable legs is also great. Definitely worth the buy.
Thank you very much for your comment Alex. Glad you like our Bitty Big Q! Best wishes!
01/19/2020
Paul H.
United Kingdom
I recommend this product
Largest small grill
Bought it for friends son who is in the army and is deployed abroad he loves it as it's small yet big when opened up and tough .he says it's good for drying kit on and other military stuff
Thank you for your review Paul. We are glade your friend's son loves it! Thank you again for choosing Bitty Big Q!
12/04/2019
Bryan R.
United States
I recommend this product
Great stove
Thanks to Mike at Bushcraft Barton's on YouTube for recommending this stove
Thank you for your review Bryan.